Crown of midnight av Sarah J. Maas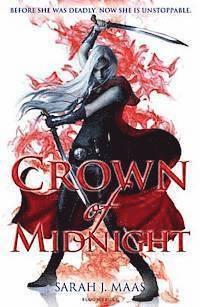 Antal Sidor: 432
Utgiven: 2013-08-15
Serie: Throne of Glass (del 2)
Handling
Eighteen-year-old Celaena Sardothien is bold, daring and beautiful - the perfect seductress and the greatest assassin her world has ever known. But though she won the King's contest and became his champion, Celaena has been granted neither her liberty nor the freedom to follow her heart. The slavery of the suffocating salt mines of Endovier that scarred her past is nothing compared to a life bound to her darkest enemy, a king whose rule is so dark and evil it is near impossible to defy. Celaena faces a choice that is tearing her heart to pieces: kill in cold blood for a man she hates, or risk sentencing those she loves to death. Celaena must decide what she will fight for: survival, love or the future of a kingdom. Because an assassin cannot have it all ...
Tankar om boken


Jag gillade den här boken mycket mer än första boken. Dels för att den inte kändes som en kopia av Hungergames och att den stod på egna ben. Dels också för att författaren verkade ha fått mer respons och ordning i den här boken i jämförelse med första.
Efter att ha läst dessa två böcker så blir jag mer nyfiken på att läsa mer och jag såg att det hade kommit ut fler böcker av författaren i samma serie.. 
Det enda jag blev besviken på var att det inte blev något triangeldrama som jag trodde..
Betyg

---
Kommentarer
Trackback